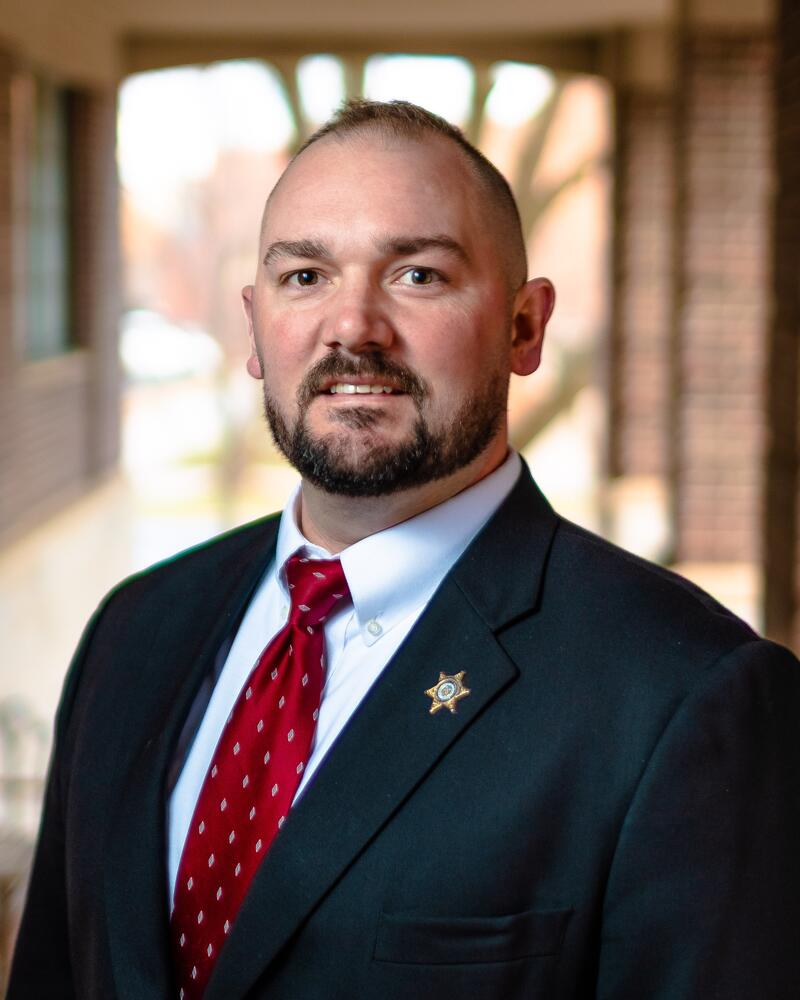 ROYE H. COLE, SHERIFF
MARK CHAMBERLAIN

Captain Patrol Operations

ADAM HUGHES

Sergeant Patrol Supervisor

CALEB ESSARY

Squad A Corporal

COLTON CLAXTON

Squad B Corporal
The Patrol Division operates under the direction of Sheriff Roye H. Cole and is the primary law enforcement agency in the county. Patrol Division is under the immediate supervision of Captain Mark Chamberlain.
Sergeant Adam Hughes with Corporal Caleb Essary and Corporal Colton Claxton are in charge of the supervision of the different squads and shifts.
Patrol deputies are responsible for answering calls for service. They also protect your constitutional rights and personal liberties. They are responsible for patrolling a county of 590 square miles and protect over 40,000 citizens. They patrol all county roads and provide a visible presence as a proactive measure to help deter crime. Webster County is divided into two zones. Shift assignments for those zones are determined by the shift supervisor each day. Deputies patrol and enforce state laws throughout all areas of Webster County and have the following responsibilities: responding to complaint calls, taking reports, making arrests, transporting prisoners, serving warrants, writs, subpoenas and civil papers for the court, bailiff duty, traffic control, traffic enforcement and drug eradication. They perform a wide array of related duties. They also provide assistance to other law enforcement agencies in Webster County and surrounding areas when called on. Patrol deputies have concurrent criminal jurisdiction throughout both the unincorporated and incorporated areas of the County with Municipal and State Officers.
Webster County has sixteen(16) full time patrolmen and responded to 14,724 calls for service in 2019. After responding, the deputies gather the necessary information for a report. Once the report is written, it is forwarded up the chain of command. When the report is approved it is turned over to the Criminal Investigation Division (CID)(http://www.webstercountymosheriff.org/page.php?id=4). CID reviews these reports and begins and active investigation. When all of the information is gathered, the report is then forwarded to the prosecutor's office for the filing of formal charges. Members of the Patrol Division must be well rounded in all facets of police work. They must know how to do a little of everything, because they lay the groundwork for successful closure to all cases. The Patrol Division works ten hour shifts. Normally, there are two deputies per shift and a supervisor, but many times there is only one, but due to overlapping of shifts, there can be as many as four. They are supported by Reserve Deputies as needed and when available. If you see a deputy patrolling your neighborhood don't forget to wave and say hello. They are there to protect you and your family!
DEPUTY TRAINING:
Deputies are required to attend a certified Law Enforcement Academy and go through 690 hours of basic training to become state certified after taking a state exam. The academy takes approximately 6 months of full time attendance to complete. This is not paid for by the Sheriff's Office, but falls solely to the responsibility of the deputy. Deputies are then required to attend a minimum of 24 hours of POST certified training per year. Since taking office, Sheriff Cole has entered into agreement with the Missouri Sheriff's Association, Missouri State Southern University, Drury Law Enforcement Academy and many others, to provide free or low cost training to the deputies of Webster County.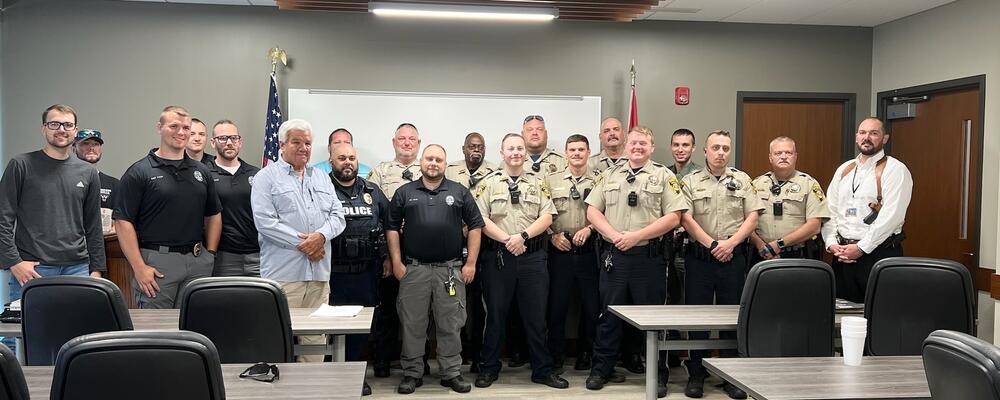 Training with Bob Paudert on Sovereign Citizens with surrounding agencies.
Active Shooter Training

Select Fire Instructor

Deputy Dudding and Deputy Genetti being sworn in by Sheriff Cole.

Deputy Genetti being pinned by Sheriff Cole.

SRO John Everett (newest band member)

Traffic Enforcement

Patrol Car Hit by Fire Truck in the Ice Storm

Drug Bust